When the first round of the MLS SuperDraft wrapped up Tuesday, one thing was very clear … high school soccer isn't an impediment to getting a shot at the highest league in the land.
The 28 first-round picks featured 25 players from North America, and 16 of those 25 played high school with great individual and team success. In fact, seven of the first 10 North Americans selected played high school soccer.
No. 1 pick Ben Bender, a physically gifted attacking midfielder, starred at Calvert Hall (Md.). The high school All-America format that is now housed at PrepSoccer.net and formerly on another platform had Bender as a second-team All-American his senior season in 2019. He was not listed on any other All-America team that fall. He netted 15 goals as a senior midfielder playing in the ultra-competitive MIAA conference, which is comprised of Baltimore-area schools. He also played for FC Baltimore in NPSL while still in high school.
"Special day for a special kid," one of his high school coaches told PrepSoccer.net after Bender was drafted first by Charlotte FC. "Really happy for him that he did it his way, too. He didn't have to go to a residency academy, (he) played high school soccer and never compromised his values for anyone. … Hopefully more kids feel empowered to play high school soccer moving forward."
One of Bender's University of Maryland teammates and high school rivals, Brett St. Martin from Mount St. Joseph (Md.), also was selected in the draft at the No. 50 spot by Sporting Kansas City. St. Martin was a second-team high school All-America selection in 2017.
The high school gem in this year's SuperDraft was Ousseni Bouda, who was selected No. 8 overall by the San Jose Earthquakes. A standout from Day 1 at Stanford, Bouda was a two-time first-team All-America high school selection and the fall high school player of the year in 2018. He starred at Millbrook School (N.Y.), where he netted 61 goals as a senior and had 156 goals in a three-year high school career.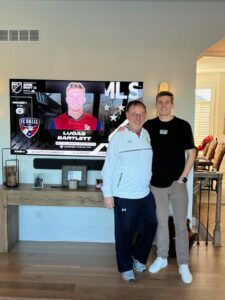 Other notable MLS first-round selections with lofty high school accolades include Mohamed Omar of Berkshire School (Mass.), Luke Bartlett from St. Thomas Aquinas (Kan.), Kendall Burks of Stadium (Wash.), Ahmed Longmire of Centennial (Nev.), and Philip Quinton of Grant (Ore.).
Omar was the East MVP of the High School All-America Game and a first-team All-America pick after helping Berkshire to a 17-1 season his season year. The midfielder had 13 goals and 15 assists as a senior.
Bartlett and Burks were second-team All-America selections as high school seniors. Longmire and Quinton were all-region selections, putting them among the nation's top 88 players as high school seniors.
Kipp Keller, who was selected No. 5 by Austin FC, earned all-state honors and guided Principia (Mo.) to a state title early in his high school career before focusing on club soccer. Ryan Sailor, who went No. 9 to Inter Miami, did something similar, winning a state title at Arapahoe (Colo.) before joining an academy program.
No. 26 pick Anthony Markanich, who played alongside his twin brother in high school at Bradley-Bourbonnais (Ill.), scored 40 goals with 14 assists as a senior to cap a career as a two-time all-state and State Star honoree. His brother, Nick, was picked in the No. 30 slot, two selections into the second round. No. 27 pick Justin Rasmussen starred at all-sport high school power Bishop Gorman in Las Vegas, Nev. Rasmussen, like the Maranichs, was a two-time all-state selection and State Star.
Jack Lynn was a 20-goal scorer his junior year at Chaminade (Mo.). Jacob Jackson had a short high school career at Rancho Bernardo (Calif.).
Jojea Kwizera was among the top goal scorers in Utah during his senior year at West Jordan (Utah). Tani Oluwaseyi and O'Vonte Mullings were both high school standouts in Canada before joining the college ranks, and they round out the 16 former high school players who were drafted in the first round.