When it comes to high school soccer in the Baltimore area, the focus clearly is on one conference — the Maryland Interscholastic Athletic Association. This group of elite private schools competes outside of the state's public school system and therefore the teams are not eligible for the state playoffs. But the MIAA A Conference crown is a Champions League all its own. Consider the following: Mount St. Joseph finished as the nation's No. 2-ranked fall high school team in 2020. Calvert Hall and McDonogh School ended the 2021 fall season ranked among the top 10 teams in the nation. Last year, the MIAA was home to the Gatorade National Player of the Year in Georgetown signee Jacob Murrell. In addition, more than half of all NCAA Division I signees from Maryland high schools hail from MIAA schools.
Therefore, it should come as no surprise that the entire Baltimore Preseason All-Metro Team is comprised of 11 players from the MIAA.
Here's a glance at the players to watch this fall:
FORWARDS: Ryan Calheira at Concordia Prep is the younger brother to college standout Taylor, who was an America East first-team performer in 2021 and USC Northeast All-Region selection. The brothers are the sons of former pro soccer player Adauto Neto. The younger Calheira was a Baltimore Sun a second-team All-Metro pick last year after helping Concordia Prep to an A Conference quarterfinal appearance. … Brady Geho Brady Geho F MD at Archbishop Curley scored 20 goals while helping this long-time Baltimore power to the MIAA A semifinals. His 20 goals last year would have been headline material had it not been for the 41 goals scored by Jacob Murrell in a league better known for its low-scoring, competitive contests. Geho was a Baltimore Sun All-Metro first-team pick in 2021. … Rich Monath is on the Preseason All-Metro team for the second straight season. The Calvert Hall playmaker and Baltimore Sun first-teamer had 15 goals and 11 assists last season but he might be better known for netting the double-overtime game-winner in the MIAA A final in a victory over McDonogh.
MIDFIELDERS:  Cody Angelini Cody Angelini M Calvert Hall | 2023 MD , like Monath, is a retuning Preseason All-Metro pick after coming off a Baltimore Sun first-team honor last year. The Calvert Hall senior-to-be had nine goals and four assists in 2021. … Elijah Brijbasi Elijah Brijbasi M MD of Gilman School recently committed to Louisville. He was a second-team Baltimore Sun selection in 2021. Brijbasi is a Pipeline SC teammate with several other players on this preseason list. … Landon Lackner Landon Lackner M Loyola Blakefield | 2023 MD has committed to St. John's and his offensive play might be key to the success of Loyola this fall. … Ben Madore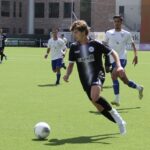 Ben Madore M Calvert Hall | 2023 #56 Nation MD is one of two Penn State commits in Calvert Hall's midfield, giving the Cardinals arguably one of the best midfield groups in the nation. Madore was an all-league performer last year as the postseason honors were shared among several Calvert Hall players. … Tyler Tucker Tyler Tucker M McDonogh | 2023 MD leads a talented group of returners at McDonogh. The Eagles will need his offense to replace the Gatorade National Player of the Year, who has graduated.
DEFENDERS:  Gavin Carmichael Gavin Carmichael D MD is one of two underclassmen to make the Preseason 11. The talented defender projects to lead a solid Loyola defense, which includes the Preseason All-Metro keeper, as well. Carmichael was a second-team Baltimore Sun All-Metro choice in 2021. … Trevor Grodsky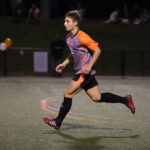 Trevor Grodsky D McDonogh | 2023 MD is returning to the Preseason All-Metro team for the second straight year. A first-team Baltimore Sun All-Met pick from McDonogh School plays center back. However, he can impact the offense. This Division I prospect had five goals and six assists last year.
GOALKEEPER: Jordon Eckman Jordon Eckman GK Loyola Blakefield | 2023 MD makes the Baltimore Preseason All-Metro team for the second straight year. The rising senior and soon-to-be four-year starter at Loyola was a Baltimore Sun first-team all-metro pick last year. He recorded 128 saves while helping Loyola to a late-season surge and a playoff berth.
| Pos. | Name | School | Grade | Commitment |
| --- | --- | --- | --- | --- |
| GK | Jordan Eckman | Loyola | Sr. | |
| D | Gavin Carmichael | Loyola | Jr. | |
| D | Trevor Grodsky | McDonogh | Sr. | |
| M | Cody Angelini | Calvert Hall | Sr. | Loyola (Md.) |
| M | Elijah Brijbasi | Gilman | Sr. | Louisville |
| M | Landon Lackner | Loyola | Sr. | St. John's |
| M | Ben Madore | Calvert Hall | Sr. | Penn State |
| M | Tyler Tucker | McDonogh | Jr. | |
| F | Ryan Calheira | Concordia Prep | Sr. | |
| F | Brady Geho | Archbishop Curley | Sr. | |
| F | Rich Monath | Calvert Hall | Sr. | |
| | | | | |
| | OTHERS | | | |
| D | Jeremy Adams | Mount St. Joseph | Sr. | |
| F | Shan Chung | Mount St. Joseph | Sr. | |
| GK | Ethan Crosby | Bel Air | Sr. | |
| M | Tyler Flynn | Calvert Hall | Sr. | Penn State |
| M | Noah Gregory | Catonsville | Sr. | |
| F | Siji Jolayemi | Glenelg | Sr. | |
| M | Rocco Pastore | Calvert Hall | Jr. | |
| M | Ryan Skandalis | John Carroll | Sr. | |
| F | Ashton Stewart | Westminster | Jr. | |