Two of Libertyville FC 1974's teams have found a tremendous amount of success down in Florida this July. 16u girls and 17u boys each won national championships down in Orlando on July 24th. Two Galaxy SC clubs also won national championships that day!
Lucier Leads 16u Girls To Title in PK's
On the women's side, 2025 F Piper Lucier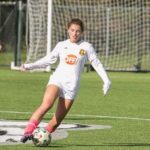 Piper Lucier F Barrington | 2025 IL went on a tear, opening the national tournament with two goals in a 3-0 win over New Jersey's RUSA FC. Lucier's second goal of the match off a set piece was terrific. A few days later, she came through when they needed her. Scoring the game winning goal with 10 minutes remaining to beat Wilson Youth Soccer. An assist from her a few minutes later put the nail in the coffin.
It was on to the knockout stages for Lucier and Libertyville, as they won Group B. In the Semifinals, Lucier continued her scoring tear, as she added two more goals en route to a 3-0 win against Dakota Alliance. Lucier's speed, ball control, and awareness were all on full display. The championship game was scoreless heading into PK's. But Libertyville came through. Only conceding twice all tournament, GK Kate Hopma shined. Coming up with two clutch saves to win the national championship. Hopma was awarded the Golden Glove, and Lucier was selected to the Best XI. Aaliyah Pitts from Rockford Raptors FC also made the Best XI from that division.
Miguel Garcia Wins Golden Boot for 17u Libertyville as They Take Home National Title
Three set piece goals by Alan Alonso Alan Alonso IL , Miguel Garcia, and Alek Laroi gave Libertyville a 5-0 win against Arlington Soccer Association in Virginia. The next day, their defense took center stage in a 1-0 win over BVB Pittsburgh. Especially at the end with strong goalkeeping by Mason Runyard. Garcia scored a one-touch goal off a baseline assist from Roman Lynch. In the third game, they squeaked past Juventus Miami 2-1 to advance to the semifinal. Down 1-0, their first goal came in the 87th minute, and another followed a few minutes later
It was now off to the semifinals. As three of the semifinalists were Chicagoland foes Galaxy SC and Mundelein FC. Libertyville faced Mundelein in the semifinals. Alonso gave Libertyville an early advantage, but Mundelein responded with two set-piece goals to close the opening half. Garcia scored again to tie the game, and the two teams headed to extra time. It was in the closing five minutes, when Miguel Garcia broke free on the right side and assisted the game-winning goal to Raymond Sereno.
Shortly after the 16u girls won their championship on Sunday, it was the Boys turn, as they faced off against the other Illinois foe, Galaxy SC. It was Galaxy striking first, as Aiden McMahon and Josh Weigel scored goals to open the game. They trailed 2-0 all the way into the 85th minute. When Alan Alonso Alan Alonso IL scored a terrific goal to cut the lead in half. Shortly after, they forced OT off a corner kick goal by Nico Leon. in OT, Libertyville had full advantage, as Rohan Gopalam and Miguel Garcia each added goals. A late goal by galaxy wasn't enough to come back, and Libertyville won 4-3.
Illinois prospects loaded the Best XI. Garcia scored 7 goals for Libertyville to win the golden boot, and their GK Mason Runyard won the golden glove. Alonso was the third Libertyville player placed in the Best XI. Cooper Allen Cooper Allen D IL and Nick Roe earned all-tourney for Galaxy, and Danny Alfaro and Brandon Marquez for Mundelein did too. Evan Kanellos earned best XI for Chicago Fire FC in the 17u Division.
Other Illinois Notes
Galaxy 14u Girls take Home National Championship in PK shootout: Both the 14u and 18u girls squads from West Suburban based Galaxy SC also took home national championships. 14u GK Hannah Folliard was sensational. She only conceded one goal the entire tournament. Folliard made a sensational diving save in the pk shootout to win the championship shootout 5-4. Gabby Smith and Claire DeCook earned Best XI nods too.
Familiar High School Standouts Lead Galaxy 18u to Title: Northwestern Commit Megan Norkett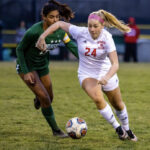 Megan Norkett M Naperville Central | 2023 #149 Nation IL She's also surrounded by several highly Impactful stars in Olivia Anderson, Abby O'Connor, Ella Burke, Katie Lewellyan, and several others. O'Connor won the golden glove award, and Anderson earned golden boot. Molly Pistorius, who went on a scoring rampage during the high school season, earned Best XI with FC United.